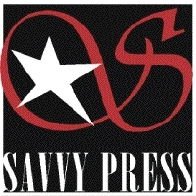 About
September 2012
Savvy Press and its imprints Gowanus Books and SagaSF publish literary fiction in all genres.
Our books are available to the trade through Ingram, Baker & Taylor, and QBI.
Contact:
Sales: anthony@savvypress.com
Production: emily@savvypress.com
Website: webmaster@savvypress.com
Fax: 815 346 2659

We are not accepting submissions from writers at this time.
Home | Authors | Ebook Central