Partners: Death Plays a Hand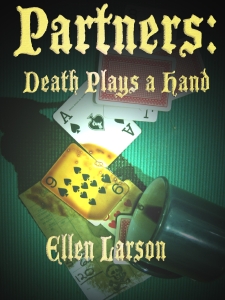 "Partners" by Ellen Larson
Buy Kindle edition now
New Kindle Novella - priced right at $1.97
August 2009
Murder most foul at a sedate New Jersey bridge tournament? Trump that! Natalie Joday (The NJ Mystery Series) is all set to win the tournament. Nothing can stop her--except for another player keeling over in the middle of the last round. A must read for bridge lovers (novella: 10,000 words).
Reporter Natalie Joday (NJ Mysteries) has a youthful adventure at the bridge table in this light-hearted puzzler. Author Ellen Larson warns that this one should be labeled "WARNING: For Bridge Players Only," but don't let that stop you from enjoying this whimsical tale filled with delightful small town characterizations.
In 1991, Larson and friends won the Women's Team of Four championship at the Egyptian National Bridge Championships (seventh overall). And yes, Omar Sherif played (but did not finish in the top ten).
Originally published in downloadable formats
and still available as an Amazon Short.